Don't Make the Same Mistake Twice! Protect Quality and Patient Access to HME for Oklahoma Medicaid Beneficiaries!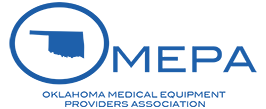 The Oklahoma Medicaid benefit and how it is managed is in jeopardy! Governor Kevin Stitt has directed the Oklahoma Health Care Authority to turn over responsibility for the program to a group of Managed Care Organizations (MCOs). These MCOs are private insurance companies who will take a cut of Medicaid dollars by slashing payments to individual companies who provide home medical equipment HME) and related home-based care for the vulnerable patient populations.
MCOs have created controversy across the nation in how they manage other state Medicaid programs. If this model is adopted here in Oklahoma, it will threaten access to critically necessary home medical equipment (also known as durable medical equipment or DME) and will impact the quality of the products and services that Oklahoma Medicaid beneficiaries are currently receiving.
This approach of utilizing private insurance companies to manage the Oklahoma Medicaid benefit was already attempted in the 1990s and failed to meet the needs of the state. Let's not make the same mistake again!
Please take a moment to send a pre-written note to your Oklahoma legislators asking that they stop the process of placing Medicaid beneficiaries and the local providers who care for them under a managed care model.
A pre-written message will come up once you've entered your ZIP code below; you are encouraged to add information about your company's work supporting Oklahoma Medicaid recipients and how rate cuts that will follow a managed care model impact your ability to provide effective care. If you are a patient or clinician, please share why maintaining strong patient access to DME is important to you.
Learn more about this issue at healthcareholdup.com or see this flyer [link forthcoming]. And please forward this message along to your colleagues and peers and encourage them to take action.
First, Enter Your Zip Code